AUSTIN, Texas — Texas' obesity rates have gotten worse since the pandemic, especially for Black and brown communities, new public health policy research shows.
Trust for America's Health's State of Obesity study looked at national and state data, particularly focusing on COVID-19 and social determinants for obesity.
It found Black and brown communities were hit hardest by COVID-19. They were more likely to have food insecurity and job loss during the pandemic because of long-standing systemic structures that segregated Black and brown communities, restricting their access to resources.
Samina Hargrove has to trek quite the distance for her breakfast. The length she travels for some eggs and bacon? Ten miles. The mother, her son and husband live in a food desert. Her home is in Del Valle, just east of Austin.
"This is the house that I can afford, and the taxes were so much lower than living in Austin or Pflugerville," Hargrove said.
The closest thing to a grocery store is a gas station or a Dollar General.
"It just changes the way you think about the food that you eat and what's good and what's not good becomes based on what you have access to," she said.
There are also no hospitals or clinics, gyms or safe walking spaces other than her neighborhood. She says she doesn't have a primary care doctor because it's hard to find one close that she trusts.
The native Texan grew up in a predominantly Black community in Houston and has struggled with her weight since she was a kid.
Hargrove's parents were middle class and she went to a private school, but she says she had limited access to healthy foods or information on healthy living, despite her parents getting her a dietitian.
"The only vegetables we ate growing up was corn and green beans, and potatoes," she said.
The Trust for America's Health study found racial and ethnic disparities in obesity are "stark," with Black women having the highest rates of any group at 56.9%.
According to the report, "the pandemic added new obstacles and exacerbated existing barriers to healthy eating, physical activity and deepened longstanding racial and economic inequities."
Texas is ranked the 12th worst in the nation with an obesity rate of 35.8%. Black people and Latinos in the state have an even higher rate compared to white people.
TFAH found 39.2% of Black people are obese, 39.7% of Latinos and 32.2% of white people.
The lines at El Buen Samaritano's food pantry pick-ups haven't slowed down since the pandemic. The East Austin nonprofit serves mostly Black and brown communities. CEO Dr. Rosa Maria Murillo says they went from feeding 100 families per week to 700 per week when COVID hit. Now it's still about 500-600.
"We cannot have a thriving community without people being healthy," Murillo said.
Healthier food is more expensive than junk food, and with inflation, those costs are only going up, making it harder for families and organizations distributing meals like El Buen Samaritano.
Obesity increases the risk of serious illness, diabetes, high blood pressure, arthritis, depression, heart disease and cancer, to name a few.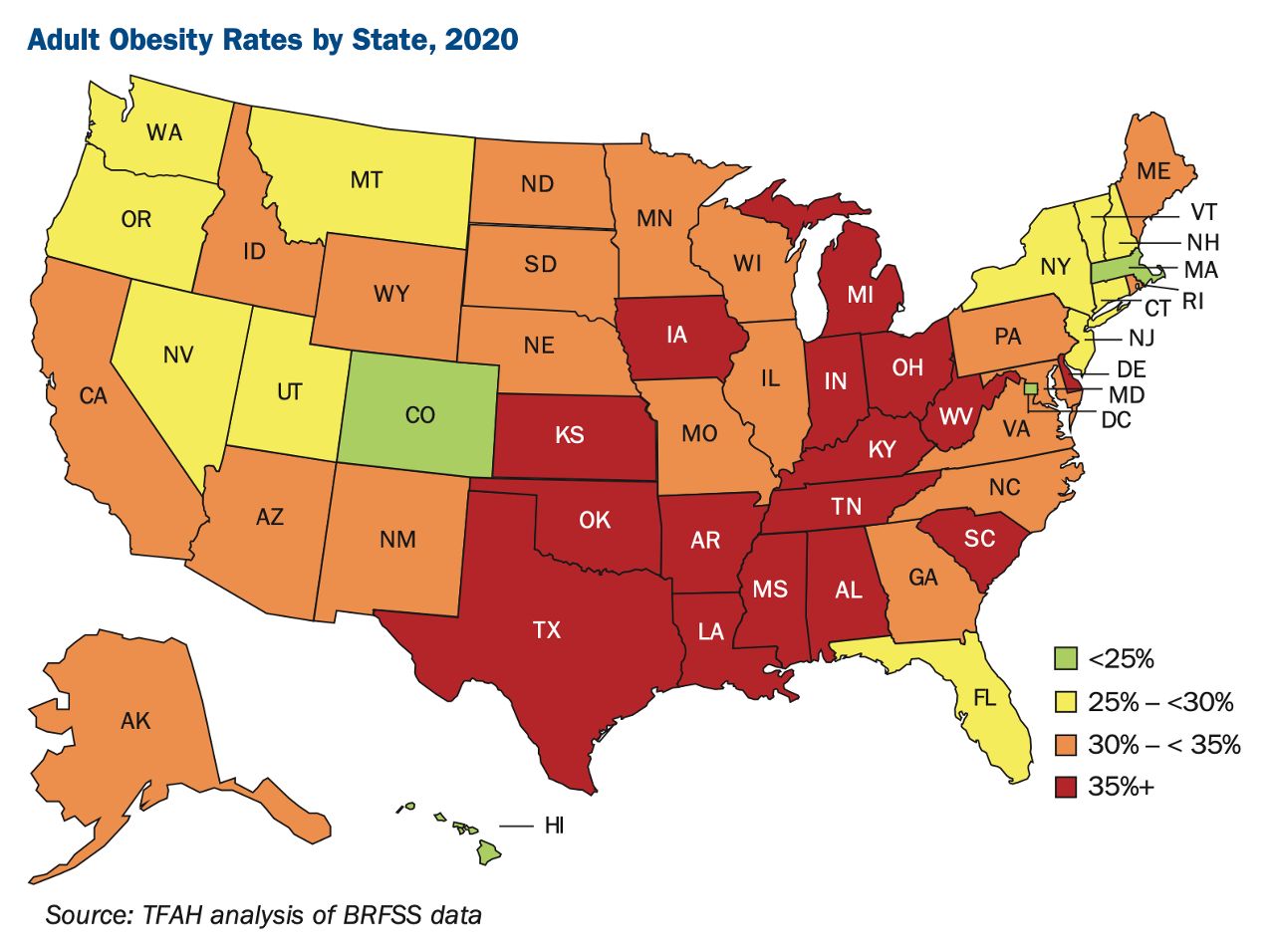 "Obesity is not addressed through just excising, it is addressed at a much higher systemic level," Dr. Maria Murillo said.
Against all odds, Hargrove has managed to find the lifestyle that worked best for her. In recent years, she's lost 100 pounds through intermittent fasting and daily exercise, with no help from doctors. Of course, data shows she's an exception, and it doesn't mean Hargrove has it any easier now either.
"Accessibility, you know it really does make a difference in your quality of life because it gets stressful trying to figure those things out on a weekly or even daily basis," she said.
The TFAH study recommends:
Increase health equity by strategically dedicating federal resources to efforts that reduce obesity-related disparities
Decrease food insecurity while improving nutritional quality of available foods
Change the marketing and pricing strategies that lead to health disparities
Make physical activity and the built environment safer and more accessible for all
Strengthen obesity prevention throughout the health care system